Barndominium house designs have been making waves in the past decade because of their unique design and a cost-effective solution to traditional housing. Its utilitarian principle and easy to build floor plans are the top reasons why many people now choose to build barndominiums as their own homes.
The term comes from the combination of the words 'barn' and 'condominium'. A barndo, as they are commonly referred to, have upgraded components that make them a lot more appealing to many homeowners, especially in rural areas. So essentially, this is an upgraded barn home.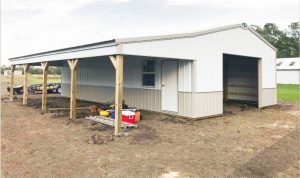 Why People Are Building Barndominiums
Despite being a simple living space, a barndo can expand to however the owner wants it to. Like a traditional home, you can still modify it to have features like a double stud wall system, half glass door, exterior doors, electrical stub outs, partial cathedral ceilings, a great room, and use premium materials in and outside of the building.
Barndominiums are essentially steel buildings with a metal roof. However, they can also be fancy with the installation of granite countertops, making higher ceilings, and other modern luxury treatments.
The good thing is, even with the addition of luxury amenities, a barndominium will still cost less than a traditional building of the same square foot coverage. It is also relatively low maintenance. So, is it a low cost housing? Check.
You can get a pre cut frame and barndominum shells for less money. They are a bit easier to build because of their modular nature. The assembly time is also faster, especially if you hired a contractor to assemble your new barndominium.
If you are a do it yourselfer looking to build a barndominium for the first time, consider letting contractors build the frame, then you can install the barndominium shell yourself.
Here are some things you need to know about this exterior wall sheathing, what are your siding choices, and what costs you need to consider.
What Is A Bardominium Shell?
Just like a seashell, a barndominium shell is the external layer of the building, with nothing inside. Building a barndominium is pretty straightforward. First, you have to lay the foundation. From there, you will need to build up exterior walls and roofing, then install the interior framing. The frame can be made from wood, steel, or a combination of both and other materials.
While the barndo is bare, you can take the next step and work on the interior of the barn. You can get creative with interior decorating, wall styles and floor materials. But remember, a shell is empty inside, so you'll have to do all the wiring, plumbing, and HVAC. At this stage, it's also ideal that you will install insulation. Once these interior components have been tested and passed inspection, you can move in and decorate every square foot of your new dwelling.
How Much Does a Barndominium Shell Cost?
A tiny house with 24'x30′ square foot will cost less per square foot than a building that exceeds 60'x50′ square foot simply because of its size. Another factor that can affect the cost is the type of material used for the shells.
Types of Barndominium Shells
Barndominium shells are typically made from wood and steel. Some barndominium shell suppliers use reinforced exterior walls to provide better weatherization. They may even do a custom job so that you can have other styles to choose from.
Best Barndominium Shell Providers
Here at Wolf Barns, we've been providing barndominium shells for many years. If you're not in our service area, a quick search on Google will show different companies that supply building kits or build pole barns near you. Find barndominium shells providers around your area so that you will not have to deal with logistical challenges.
Your Custom Barndominium
If you want to build your own dream barndominium home, hop on a call with Wolf Barns and Supply. We have 40 years of experience as a custom designer and builder of pole barn and post frame construction.
We can build you a barndominium style home as well as different styles of barns, garages, and commercial buildings in Oklahoma, Texas, Arkansas, Missouri, and Kansas areas.