A pole barn building has become one of the most famous additions to any property because of its simple and ingenious design. You can hire a professional to help you with the project to ensure its completion.
But before putting a shovel to the ground, you have to know a few things before building a pole barn or post frame commercial building. Here are ten simple questions you can ask yourself before hiring a pole barn company.
What Foundation Type Will Be Used?
A foundation with column consistency will have a meaningful, long-term impact on the pole barn. Site preparation is key for the building's long term performance. Pole buildings were originally built by placing posts directly into the ground, and their depth was usually defined by the building codes, building width, and the strength of the wind speeds in the area. You should also look at the structural framing details, building utility, and how it helps keep you building system .
What Posts Can I Use?
Pole barn buildings had posts originally built with a single log type. The size was typically 6-by-6 in size. If you're building a small pole barn, then a single wood post is a fine choice. While it is also economical, it will not offer maximum structural strength or resistance to rot entirely.
You can ask your post frame builder what they recommend for the type of structure you are planning to build. Ask them if solid wood posts, or a hybrid of materials are best for your building. Your construction company may recommend different types at different prices, so choose the one that works best for you.
What Exterior Do You Want?
Pole barns manufacturers produce a range of metal thicknesses for the outside walls. You can talk to your contractor about the rust-prevention coatings they employ and the length of the warranty they offer against the fading of the paint option you select. Knowing this factor helps increase your building performance.
Steel siding may need steel paint to protect it from the weather and you might discover that it has little to no flexibility. If you are using laminated multi-ply columns and wood, make sure you cover treated lumber to keep it from rotting and so it will not prematurely buckle.
What About The Roof Angle?
Compared to a typical house, pole barns have relatively flat roofs because a steeper roof costs more. Ensure the manufacturers quote the same roof pitch when comparing pole barn cost estimates. A roof with a flatter pitch, like a 3:12 pitch, requires less metal and truss material than a roof with a 5:12 pitch.
Adding bracing also helps keep the structure sound. Positive truss bracing help keep the post barn safe by preventing the structure from buckling under the pressure of high winds, snowfall, or heavy downpour.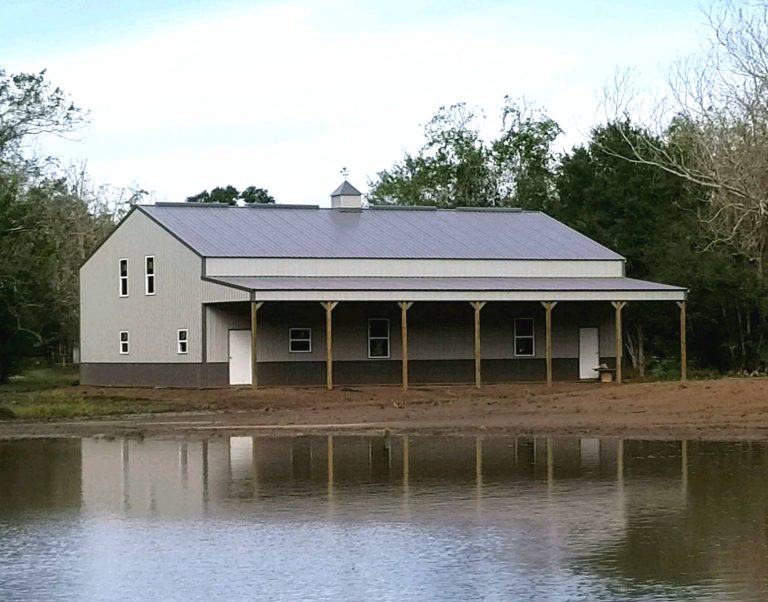 What Do You Require From Your Pole Barn Builder?
Constructing a pole barn requires a lot of skill, even with its simple looks. So, when hiring a pole barn builder, you must ensure they know exactly what they're doing.
They should have years of experience in building different types of structures. But of course, you still need to prepare yourself for unforeseen problems that may come along with your construction experience.
How Much Is Your Budget?
As with any construction, you must know how much of your budget you can allocate to building materials, labor costs, and other matters. You must communicate with the company for a quote request of the true scope. Knowing these beforehand can make a big difference in the overall cost. Wait for the complete proposal and the final value they will ask from you. It is also best to have a comprehensive written warranty covering project completion and maintenance.
Do You Need Financing?
If you need it, there are financing options available for a barn. This is an important consideration to make to complete it. A pole building is a significant investment, so you should have a firm quote from a reputable company rather than just an estimate from any contractor.
What Is The Estimated Timeline For Constructing The Pole Barn?
The length of time to complete the project changes depending on the features and the purpose of the pole barn. There may be challenges along the way, so consider the job site, the building's components, what its intended use is, if it will be fully engineered, and other necessary project changes that may occur.
Post-frame buildings are used for a variety of purposes. Usually, they are for horse stables, equine riding arenas, and may also be found in some standard models. However, they are also used to store large equipment and vehicles. Framing choices usually come with standard cookie cutter methods but can also vary depending on the company's offerings.
Do You Need Climate Control?
This depends on the location of the pole barn. However, climate control is a welcomed feature regardless of location because of the different factors that may come into play when considering the weather.
You should also consider this if you will be storing some sensitive equipment or ones that need to be stored at an even temperature, like agricultural buildings. With climate control, you may need a vapor barrier installed to avoid unpleasant surprises like leaks and wood rot.
Will You Install Plumbing?
Plumbing is an important part of any building if people will frequent it. This is an important fixture in any building site. If you decide to go with this, the site prep will be more tedious, and more construction workers may be needed. The construction process may take a little longer, but it will still be completed.
Conclusion
These questions are a guide to help you determine how you want to build your pole building. If you want to be sure of the building, choose the right pole barn builder who have comprehensive warranty cover, and you will reap the benefits of their expertise and services.