In most cases, the barndominium building process takes around three to six months to complete. The construction time depends on the size, customization levels or stages, floor plan, electrical systems, and other factors. Unlike a traditional house, erecting just the shell of a barndominium can take only 1 – 3 weeks!
Wolf Barn & Supply is an experienced pole barn builder that can help you with your custom barndo needs. We're one of the best pole barn shell builders that provide energy-efficient barndo construction and metal building applications.
When it comes to building a barndominium, it's important to make sure that all materials to be used are of high quality. This will help extend the life expectancy of your barndo, while taking advantage of a more affordable construction cost that meets your budget.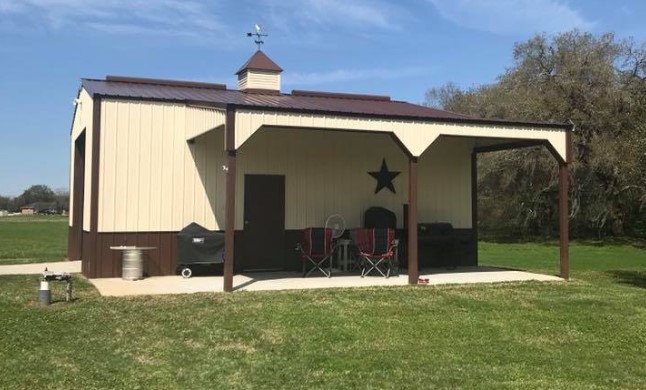 How Much Is The Shell Of A Barndominium?
When you build out the shell first, you can save money while having the freedom to design your interior. Free-span trusses allow for large span rooms that would not be achievable with traditional house framing.
While some people find it convenient to order all their building materials in a single kit, barndo owners are now realizing the greater affordability when hiring a professional builder and buying the project material separately.
Whether you're planning to build a low-maintenance home or an open airdock style, barndominium construction can provide you with a low-maintenance, flexible living space with a metal structure.
Cost-Effective Benefits
If you decide to build your shells with Wolf Barn & Supply, you can enjoy huge savings on construction costs. Unlike your average general contractor, we're the type of barn builder who will provide top-quality barndominium shells that are constructed and installed to meet industry standards and local building codes. Aside from affordability, here are other benefits you can get.
Durable, low-cost shells
If you want a long-lasting barndo shell, consider the material you will be using. Most barndominiums are wood buildings with metal roofs. Some owners install partial cathedral ceilings, larger windows, and other features. Regardless of the design, barndos can last longer and require less maintenance than a conventional home.
Building code-compliant designs
It's important to plan ahead so that the barndo you are going to build complies with your local building code and local government standards. Some important things to think about include the length per square foot of the shell, the zone or location.
Fast delivery of materials
It's crucial to have all the materials needed for your project on time. After completing your site prep activities, the posts will be sent to your location to ensure they fit your load-bearing walls. We can recommend the best licensed contractors to help with plumbing, roof sheathing, exterior walls, exterior doors, and other interior requirements.
What Is The Life Expectancy Of A Barndominium?
The life expectancy of a barndominium home generally depends on the maintenance of the metal siding and roof. On average, barndos with a concrete foundation can last up to 50 years or even longer.
Since they are built on poured concrete foundations, some structures can hold up between 80 to 100 years. In addition, correct framing are also proven to last up to 100 years after completion.
The foundation and frame of your barndo are the two most crucial parts of the entire structure. With proper tools and framing solutions, you can expect your barndominium to last for decades.
After all, the shell is completed and built to withstand the test of time without hurting your budget. Contact your local professional builders to build a barndominium that can last longer.